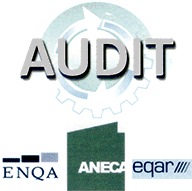 Certificado Nº UCR-I 011/2014
Fecha de emisión: 30/07/2014
Validez del Certificado: 30/07/2018
On 30 July 2014, this Faculty obtained the Certification of the IQAS Implementation, based on the AUDIT model for certification of implementation of Internal Quality Assurance System (IQAS). The Quality and Strategic Planning Unit of the National Agency for Quality Assessment and Accreditation of Spain (hereinafter, ANECA) indicated in its assessment report that:
The Faculty of Geography and History has access to the data provided by the Office of Institutional Assessment (OIA) of the ULPGC. With this data, the Faculty can manage the results of the IQAS key indicators and compare them with the results of the Integrated System of University Information (ISUI). This system is an effective tool to improve the quality of the Faculty.
All the staffs at the Faculty of Geography and History (academic staff, administrative and service staff and students) have worked in cooperation to conduct the Action Plan for Quality Improvements (PAM) proposed
It should be also indicated that the Faculty has made a major effort to bring up to date the documentation on the IQAS, which is available on the Faculty website.
List of Universities and Faculties that have obtained the AUDIT certification: website.
Held on 20-21 November 2014, the XVI Foro de Almagro (Ciudad Real) on the topic of "The national and international accreditation of degree programmes", was organised by the University of Castilla-La Mancha and the ANECA. During the event, the Dean of the Faculty of Geography and History received the Certification of the IQAS Implementation from the representatives of the ANECA (José A. Pérez de la Calle, coordinator of the Quality and Strategic Planning Unit and of the AUDIT programme; and Miguel Ángel Galindo Martín, Deputy Director for Evaluation of Programmes and Institutions at ANECA).
See the CERTIFICATION.