In accordance with the provisions of the newly reformed Spanish Universities Act, all official degree courses of Spanish universities must be accredited by the ANECA (or other similar regional agencies). Before the accreditation process, degree courses must be assessed to check the worthiness of the designs submitted prior to the programmes actually being started (verification).
The design of the IQAS Faculty of Geography and History, developed according to the principles set out in the IQAS Manual and based on the AUDIT programme proposal, must be verified and accredited by the ANECA. Therefore, the IQAS certificate of the Faculty of Geography and History will facilitate the verification of new degree courses, because the IQAS will deal with the regulatory instructions for the authorisation and registration of undergraduate and graduate degree courses. Quality assurance can be described as the systematic, structured and continuous attention to quality in terms of quality maintenance and improvement. Within the framework of educational policies and processes developed by the universities, quality assurance has enabled institutions to demonstrate that they take the quality of their programmes and awards seriously and are willing to put into place the means to assure and demonstrate their quality. The development of quality assurance systems calls for an appropriate balance between the actions promoted by universities and external quality assurance procedures promoted by QA agencies. The two of these together make up the internal quality assurance system of the Spanish higher education system.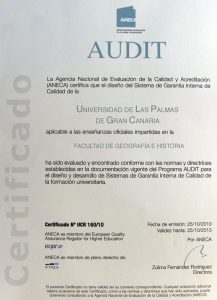 The design of systems by the universities will involve:
Determining the needs and expectations of students and other interest groups, regarding the programmes offered by higher education institutions.
Establishing the aims and scope of the IQAS.
Determining the standards for quality assurance.
The National Agency for Quality Assessment and Accreditation of Spain (ANECA) has developed the Recognition Programme of Internal Quality Assurance System of Higher Education (AUDIT), which contributes towards the recognition of improvements for quality assurance carried out by universities and faculties. Below is the certificate that the Faculty of Geography and History received, demonstrating that its IQAS is properly implemented.